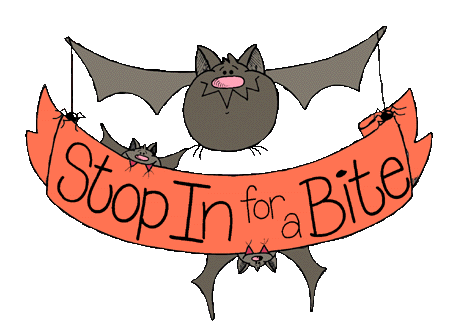 Halloween Recipes
I found LOTS of recipes on the net from various sites so I will include as many as I can. They will be sorted by site so I can do the link only once. :o) Each set of recipes will be on a seperate page. Some will feature pictures if the site included them. Happy eating!!

This set of recipes from:
http://www.britta.com/HW/HWr.html

Edible Spiders
These are very fragile, but enough stayed intact to give the desired effect...I used a deocrating tube to pipe the icing into spider shapes on waxed paper. They are made from Royal Icing, which needs to be used right away since it hardens to a rocklike texture very quickly!
Royal Icing
16 oz powdered sugar (icing sugar)
3 egg whites
1/2 tsp cream of tartar

Beat until peaks firmly hold their shape, and the more you beat it, the firmer it gets.

I only made a third of this recipe and I still had tons of icing left over after making two dozen spiders. I used black paste food coloring to get it as dark as I could...

Gelatin Eyeballs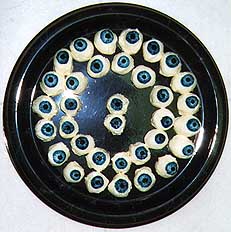 3 oz lemon gelatin
1 cup hot water
1/2 cup minature marshmallows
1 cup pineapple juice
1 8-0z. pkg cream cheese
1 cup heavy cream, whipped
1 cup mayonnaise


Dissolve lemon gelatin in 1 cup water in double boiler, add marshmallows and stir to melt. Remove from heat. Add pineapple juice and cream cheese. Beat until well blended. Cool slightly. Fold in whipped cream and mayo. Chill until thickened or firm for scooping into eyeballs.

Using a melonballer, scoop full balls of the mixture and set aside for decoration. To decorate, use food coloring and an old paintbrush and get creative. You will need black food coloring for the pupils. Also, if you are in a hurry, instead of painting the colored irises, you can dip the ball in a small pool of food coloring to approximate the iris, but still paint on the pupils.

For 1999, I found rubber ice cube trays that worked beautifully with much less waste than the melonballer technique (see above). I sprayed the rubber trays with non-stick cooking spray beforehand like you would any gelatin mold, let the gelatin mixture sit in the refrigerator to set, then I was able to carefully pop the eyeballs out to paint them. Some of the eyeballs did break, and they do have one flat side, but that actually works, since then they don't roll around while you are trying to paint them.

Creepy Witches' Fingers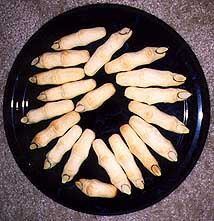 1 cup Butter, softened
1 cup Icing sugar
1 Egg
1 tsp Almond extract
1 tsp Vanilla
2 2/3 cups Flour
1 tsp Baking powder
1 tsp Salt
3/4 cup Almonds, whole blanched
1 Tube red decorator gel

Yield: 5 dozen

Gross everyone out with these creepy cookies!


In bowl, beat together butter, sugar, egg, almond extract and vanilla. Beat in flour, baking soda, and salt. Cover and refrigerate 30 minutes. Working with one quarter of the dough at a time and keeping remainder refrigerated, roll heaping teaspoonful of dough into finger shape for each cookie. Press almond firmly into 1 end for nail. Squeeze in center to create knuckle shape. (Accompanying picture showed long rolled shape with bulge at center for knuckle; you puff it out rather than squeeze it in.) Using paring knife, make slashes in several places to form knuckle.
Place on lightly greased baking sheets; bake in 325F (160C) oven for 20-25 minutes or until pale golden. Let cool for 3 minutes. Lift up almond, squeeze red decorator gel onto nail bed and press almond back in place, so gel oozes out from underneath. You can also make slashes in the finger and fill them with "blood."

(ed. note - I opted not to go for the bloody effect as shown by the picture above, and my guests were still grossed out! - Britta)
Remove from baking sheets and let cool on racks. Repeat with remaining dough.

(Collected by Bert Christensen, Toronto, Ontario)

Brittle Merangue Bones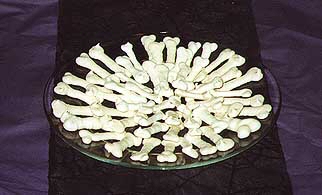 3 large egg whites
1/4 tsp. cream of tartar
1/8 tsp. salt
2/3 cup white sugar
1/2 tsp. vanilla


Preheat oven to 200 degrees. Line cookie sheet with brown paper bag or parchment. In a medium sized bowl at high speed, beat egg whites, cream of tartar and salt till fluffy. Gradually beat in sugar. Add vanilla. Place in pastry bag fitted with a medium plain piping tip. Pipe 3" bone shapes onto parchment or brown paper bag. Bake 1 hour until set. Turn off oven, dry in oven 1 hour. Makes 4 to 5 dozen small bones.

This set of recipes from:
http://www.britta.com/HW/HWr.html

&nbsp&nbsp&nbsp&nbsp&nbsp
&nbsp&nbsp&nbsp&nbsp&nbsp