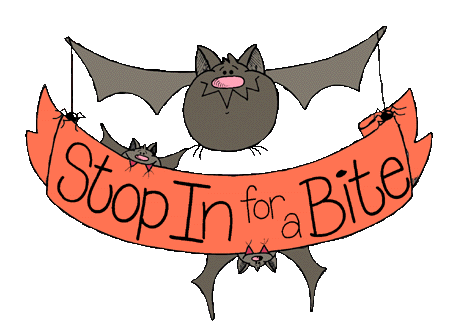 Halloween Recipes
I found LOTS of recipes on the net from various sites so I will include as many as I can. They will be sorted by site so I can do the link only once. :o) Each set of recipes will be on a seperate page. Some will feature pictures if the site included them. Happy eating!!

This set of recipes from: Betty Crocker website


Cobweb Cookies
3/4cup Gold Medal® all-purpose flour or unbleached flour
1/2 cup granulated sugar
1/4 cup vegetable oil
1/4 cup milk
1/2 teaspoon vanilla
2 eggs
Powdered sugar


1. &nbsp Beat all ingredients except powdered sugar in medium bowl with electric mixer on medium speed until smooth. Pour batter into plastic squeeze bottle with narrow opening. Heat 8-inch skillet over medium heat until hot; grease lightly.

2. &nbsp Working quickly, squeeze batter to form 4 straight, thin lines that intersect at a common center point to form a star shape. To form cobweb, squeeze thin streams of batter to connect lines.

3. &nbsp Cook 30 to 60 seconds or until bottom is golden brown; carefully turn. Cook until golden brown; remove from skillet. Cool on wire rack.

4. &nbsp Heat oven to 325ºF. Bake cookies on ungreased cookie sheet 5 to 7 minutes or until almost crisp (cookies will become crisp as they cool). Remove from cookie sheet; cool. Sprinkle with powdered sugar. Store cookies in container with loose-fitting cover.

Black Cat Cake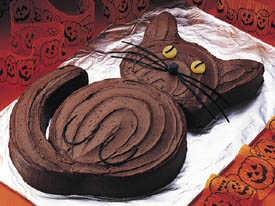 1 package Betty Crocker® SuperMoist® devil's food cake mix
1 1/3 cups water
1/2 cup vegetable oil
3 eggs
1 tub Betty Crocker® Rich & Creamy chocolate ready-to-spread frosting
1 large yellow gumdrop
1 small black gumdrop
Black shoestring licorice


1 &nbsp Heat oven to 350ºF. Grease bottoms only of 2 round pans, 8 or 9x1 1/2 inches, with shortening.

2. &nbsp Make cake mix as directed on package, using water, oil and eggs. Pour into pans.

3. Bake 8-inch pans 33 to 38 minutes, 9-inch pans 28 to 33 minutes or until toothpick inserted in center comes out clean. Cool 10 minutes; remove from pans. Cool completely, about 1 hour.

4. &nbsp Cut cake as shown in diagram; arrange and frost top and sides of cake pieces with frosting. Use yellow gumdrop slices for eyes, black gumdrop for nose and shoestring licorice for whiskers, lines on eyes and front paws. Store loosely covered.





Jack O'Lantern Pizza





1 pound lean ground beef
1 cup Old El Paso® salsa (any variety)
3/4 Green Giant® Niblets® frozen whole kernel corn
1/4 cup water
2 cups Original Bisquick® mix
1/3 cup very hot water
1 tablespoon vegetable oil
2 cups shredded Colby-Monterey Jack or Cheddar cheese (8 ounces)
Toppings, such as orange and green bell pepper strips, sliced ripe olives and cherry tomato wedges, if desired


1. &nbsp Move oven rack to lowest position. Heat oven to 450ºF. Grease 12-inch pizza pan. Cook beef in 10-inch skillet over medium heat, stirring occasionally, until brown; drain. Stir in salsa, corn and 1/4 cup water. Heat to boiling; remove from heat.

2. &nbsp Mix Bisquick, 1/3 cup hot water and the oil until soft dough forms; beat vigorously 20 strokes. Let stand 5 minutes. Press dough in pizza pan, using fingers dipped in Bisquick; pinch edge to form 1/2-inch rim. Spread beef mixture over dough. Sprinkle with cheese.

3. &nbsp Bake 11 to 15 minutes or until crust is golden brown and cheese is melted. Arrange Toppings on pizza to form jack-o'-lanterns.





"Scary Night" Caramel Brownies





1 package Betty Crocker® Original Supreme brownie mix (with chocolate syrup pouch)
3/4 cup butterscotch-flavored chips, if desired
1/3 cup water
1/3 cup vegetable oil
2 eggs
Caramel Frosting (See Below)
Pretzel sticks
Assorted Halloween candies, gumdrops or shaped marshmallow pieces, such as bats, moons, pumpkins, ghosts


1. &nbsp Heat oven to 350ºF. Line 13x9-inch rectangular pan with aluminum foil, leaving edge of foil above rim of pan; grease bottom only of foil.

2. &nbsp Stir brownie mix, chocolate syrup, butterscotch-flavored chips, water, oil and eggs in medium bowl, using spoon, until well blended. Spread in pan.

3. &nbsp Bake 28 to 30 minutes or until toothpick inserted 2 inches from side of pan comes out clean or almost clean. Cool about 1 hour before frosting.

4. &nbsp Prepare Caramel Frosting while brownies are cooling. Lift out foil and uncut brownies.

5. &nbsp Carefully remove foil. Frost brownies; arrange pieces of pretzel sticks to make tree and fence designs. Add candies to complete the "scary night" landscape. For 24 brownies, cut into 6 rows by 4 rows. Store tightly covered.

Caramel Frosting

1/2 cup butter or margarine
1 cup packed brown sugar
1/4 cup milk
2 cups powdered sugar


Melt butter in 2-quart saucepan over medium heat. Stir in brown sugar. Heat to boiling, stirring constantly. Reduce heat to low. Boil and stir 2 minutes. Stir in milk. Heat to boiling; remove from heat. Cool about 45 minutes or until lukewarm. Gradually stir in powdered sugar. If frosting is too thin, place saucepan of frosting in bowl of cold water. Beat frosting until smooth and thick enough to spread. If frosting becomes too thick, stir in additional milk, 1 teaspoon at a time.





Witches' Brooms





1/2 cup packed brown sugar
1/2 cup butter or margarine, softened
2 tablespoons water
1 teaspoon vanilla
1 1/2 cups Gold Medal® all-purpose flour
1/8 teaspoon salt
10 pretzel rods, about 8 1/2 inches long, cut crosswise in half
2 teaspoons shortening
2/3 cup semisweet chocolate chips
Butterscotch-flavored chips, melted


1. &nbsp Heat oven to 350ºF. Mix brown sugar, butter, water and vanilla in medium bowl. Stir in flour and salt. Shape dough into twenty 1 1/4-inch balls.

2. &nbsp Place pretzel rod halves on ungreased cookie sheet. Press ball of dough onto cut end of each pretzel rod. Press dough with fork to resemble "bristles" of broom.

3. &nbsp Bake about 12 minutes or until set but not brown. Remove from cookie sheet. Cool completely on wire rack, about 30 minutes.

4. &nbsp Cover cookie sheet with waxed paper. Place brooms on waxed paper. Heat shortening and chocolate chips over low heat, stirring occasionally, until melted and smooth; remove from heat. Spoon melted chocolate over brooms, leaving about 1 inch at top of pretzel handle and bottom halves of cookie bristles uncovered. Drizzle with melted butterscotch chips. Let stand until chocolate is set.





Witches Hats





32 Kisses® milk chocolates, unwrapped
1 package (11 1/2 ounces) fudge-striped shortbread cookies (32)
1 tube (4.25 ounces) orange or red decorating icing

1. &nbsp Attach 1 chocolate candy to chocolate bottom of each cookie, using decorating icing.

2. &nbsp Pipe decorating icing around base of chocolate candy.

This set of recipes from:
Betty Crocker's website

&nbsp&nbsp&nbsp&nbsp&nbsp
&nbsp&nbsp&nbsp&nbsp&nbsp