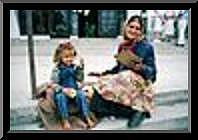 Introduction - National Poverty Awareness Month
Here in the United States, 35.9 million people -- one out of every eight Americans -- are living in poverty. That's 1.3 million more than last year, 3 million more than two years ago.

Poverty in American is on the rise. But we can reverse the trend, by rekindling the spirit of community with those in need -- and joining in soliderity with all Americans to break the cycle of poverty forever.

We can end it. And everyone can do something to help. There is a wide array of effective steps that organizations and individuals like you can take toward ending poverty.
EDUCATE, ADVOCATE, PARTICIPATE, DONATE
EDUCATE:
yourself and others about the true state of poverty in America - and discover the strength within us all to make a difference.

ADVOCATE:
for social justice, economic opportunity and freedom from poverty.

PARTICIPATE:
with others in your community, your state and the nation on projects and programs that bring a lasting end to poverty.

DONATE:
by sharing a portion of your time, resources, concern and compassion.

Information from:
Poverty USA

Copyright © 2004 United States Conference of Catholic Bishops, Washington, D.C. Used with permission. All rights reserved. Please visit our website at www.povertyusa.org.


&nbsp&nbsp

&nbsp&nbsp


Background set found at:

TRIPLES with EMMA